June 2001, Carl Lake Training hike
Page 1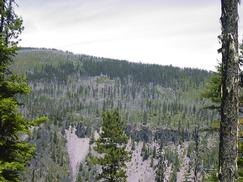 On June 22nd and 23rd, several of the scouts going to Philmont went on a training hike up to Carl Lake, covering about 15 miles over two days.
We had Gareth d, Sean M, and Thomas R. In addition, we had Alan M and Dave R as adults.
Our route took us past Cabot Lake and then up to Carl Lake. In the morning, we left our packs behind, and climbed the ridge to get a look at Mt. Jefferson.
An interactive version of this map, with arial photos, is available at MicroSoft's Terraserver.
| | | | |
| --- | --- | --- | --- |
| | Mt. Jefferson pops in and out of view as we move through the valleys. | There were lots of small butterflys or moths running around. This rock, on the shore of Cabot Lake, had about 15 butterflys perched on it doing whatever they do. | |
| | This is Cabot Lake. After this lake, there are a couple of small ponds before we make our way up to Carl Lake. | A small group of Bear Grass. The pine forest has been heavily damaged by a beetle. Perhaps 20% of the forest is still alive. You can see the trunks of the trees that have been killed here. | |
| | Carl Lake is formed by the mountain valleys and a morain. There is a very steep rock wall that also forms a portion of one side of the lake. | | |
| | Alan M drawing the scenery. | | |
| | Sean M, Thomas R, and Gareth d playing cards before bed time. | | |
| | In the morning we took a trip up the ridge to get a better view of the lake, and to see Mt. Jefferson. | | |
| | There was a bit of snow in the depressions, and small ponds formed by the melting snow. | People take a break, and consult the map. | |
| | We are about 800' above Carl Lake. | To our right are the cliffs that are quite visible from Carl Lake. Evidentally, they are covered with huckleberries later in the year. | |
---
---
If you have any question about this page, send mail to Dave Regan