November 2001, Holiday Food Basket
Page 1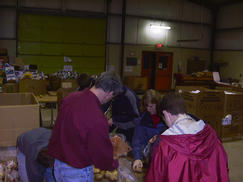 The scouts of Benton District works with the Corvallis community to put together a little extra food for the Thanksgiving holiday. This food allows about 1,000 families in our area to get a nice basket.
The scouts go door to door collecting food, and then our troop spends an evening (this year on November 13th) to sort it out into boxes.
I think the amount of boxes, and the activity in these photos speaks for itself.
---
---
If you have any question about this page, send mail to Dave Regan