November 2001, Court of Honor
Page 1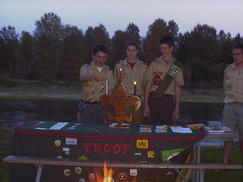 On September 17th, we honored scouts who made some sort of advancement since the last Court of Honor. We met at Willamette Park, a beautiful site overlooking the river.
Scouting attempts to teach a number of skills and characteristics. One of those attributes is giving service to others. Our troop undertakes a number of service projects to help those around us.

Jefferson Carnival
Elk's Flag Day
Flag day replacement
4th of July Cleanup
Jefferson School Cleanup
Neil B
Neil B
Neil B
Neil B
Neil B
Gareth d
Gareth d
Gareth d
Diego D
Diego D
Ty F
Ty F
DJ F
DJ F
Nick H
Nick H
Cody L
Cody L
Kyle L
Kyle L
Kyle L
Curtis M
Curtis M
Curtis M
Sean M
Sean M
Thomas R
Thomas R
Thomas R

The scouts spend a lot of time out camping. For each 10 nights, the scout gets a segment.

| Name | Nights out |
| --- | --- |
| Neil B | 22 nights |
| Gareth d | 81 nights |
| Ty F | 76 nights |
| Nick H | 45 nights |
| Curtis M | 34 nights |
| Sean M | 49 nights |
| Thomas R | 92 nights |
| Amphil R | 92 nights |

We had a number of merit badges that the scouts had earned.

| Name | Merit Badge |
| --- | --- |
| Gareth d | Cycling |
| Gareth d | Oceanography |
| Sean M | Backpacking |
| Thomas R | Cooking |
| Curtis M | Communications |

Gareth d also earned two special awards. The first was for his Buckskin training, and his second was the Leave No Trace training.
We had a crew that went to Philmont this summer, which included:

Name
Nick H
Crew Leader
Gareth d
Ty F
Sean M
Thomas R
Jody F
Advisor
Kevin H
Advisor
Dave R
Advisor

There was a participation award for all participants, as well as special awards and recognition for a number of the participants.
---
---
If you have any question about this page, send mail to Dave Regan