May 2001, Coast Training hike
Page 1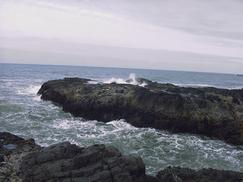 The crew going to Philmont took a 10 mile hike (with gear) at Cape Perpetua on the Oregon Coast, South of Yahats. Some of the other scouts in the troop came along as well for the experience, though they just carried their water and lunch. The weather was great.
We had Neil B, Gareth d [visitor], Ty F, DJ F, Nick H, and Thomas R.
In addition, we had the following adults: John d, Delia d, Jody F, Donald F, and Kevin H.
| | | | |
| --- | --- | --- | --- |
| | The photographer didn't go on the hike, but did get photos of the crew getting ready to take off ... | | |
| | | The constant wind blowing in from the coast forms the trees into interesting shapes. | |
| | The weather was very spring like. There were flowers of many different plants in bloom. | | |
| | | | |
| | | | |
| | The tide pools and places where the ocean had eroded into the volcanic rock were interesting places to visit. It is awsome to listen to the water rush up some of the inlets to smack against the remaining rock. | | |
| | | | |
| | | | |
---
---
If you have any question about this page, send mail to Dave Regan