April, Mary's Peak Cleanup
Page 1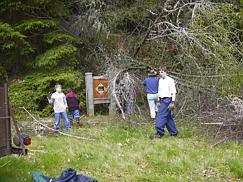 On the 22nd of April, Troop 163 went up to Mary's Peak to remove some damaged trees. We were able to use some of the material for firewood on future outings.
We had the following scouts participating: Thomas B, Neil B, Ty F, Thomas R, Conrad S, Isaac S, Diego D.
For adults, Bob B, Jody F, Dave R, and Don S participated.
---
---
If you have any question about this page, send mail to Dave Regan