November 1999, Crabbing at Waldport
Page 1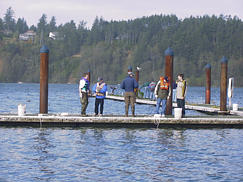 On the 6th of November, Troop 163 went to Waldport to attempt to catch some crabs. Although we caught a fair number of crabs, none of them were keepers. We did see people bringing in crabs, some from the docks, and some from boats. We'll have to try again at another time.
We had six scouts go on this outing: Ty F, Curtis M, Sean M, Peter R (webelo), Thomas R, and Andy W.
We also had several adults (at different times): Gary H, Walt H, Alan M, Dave R, and Don S.
| | | | |
| --- | --- | --- | --- |
| | High tide was about 11:00 AM, so we went directly to the docks at Waldport. We stayed there until about 2:00 PM. | One of the tasks is to identify male vs. female. Curtis is examing one of the crabs. | |
| | After fishing, we went to Beachside State Park, a few miles south of Waldport. This camping area is right on the ocean, and we could hear the surf pounding all night long. Our particular campsite had a nice area for pitching tents and setting up tarps in case there was rain. On a previous campout here, we were almost blown out of camp. On this trip we got very lucky, and the weather was beautiful. It was relatively warm, no rain, no clouds, and lots of stars. | I noticed that there was a forest service camping area several miles before Waldport on Hwy 34; that might be an alternative in the future. | |
| | After the camp was set up, the scouts explored the area. Then we started dinner before it got too dark. Thomas tried his hand at making a stew in a dutch oven, and Ty and Curtis made soup. For dessert, we had Apple Pie which was also cooked in the dutch oven. | | |
| | After dinner we played cards, and then a couple of games around the campfire. | | |
| | The morning was a nice morning as well. Unfortunately, one of the scouts wasn't feeling well, so we returned to town a little early. | Even though we didn't catch any crabs, the weather made this a very nice trip. | |
---
---
If you have any question about this page, send mail to Dave Regan