July 1999, Timber Slugs at Camp Baker
Page 1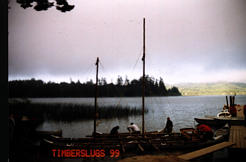 Camp Baker has an activity for older scouts to combine skills from a couple of different areas of scouting including boating skills and pioneering.
The idea is to lash a superstructure onto a set of canoes, raise a stable mast, and hoist the blue tarp sails and sail across Siltcoos lake for an overnight stay.
This set of photos was made on the evening that they were ready to set sail. The scouts have already spent their time building their watercraft, the sun is setting, and the lake is cooling off. In the distance there was fog rolling in.
There are a few more photos of this craft in our main Camp Baker page.
| | | | |
| --- | --- | --- | --- |
| | Darby has generally been building a 6 canoe boat. There are four canoes to supply the basic structure, and the additional canoes are slipped in on the last day. This allows these canoes to be used for normal scouting events. There have been as many as 26 participants. | | |
| | Darby brings down the blue tarp sails as the rest of the crew load up equipment and supplies for the trip. | | |
| | One of the innovations for this incarnation of the Timber Slug is a steering box. There is a nice home-made maritime control wheel which (through ropes, pullys, and a large arc of wood), controls a rudder. Previous versions of the craft were steered by dragging canoe paddles in the water. This mechanism wasn't without its problems, but got them all of the way across the lake, and most of the way back the next day before an axle broke. | The scouts are on board, and the Slime Master 2000 is under way! | |
| | Once in the lake, it is time to hoist the two square rigged sails, and continue the journey by sail. | | |
| | Here is a great shot of the scouts in the canoes and on the deck, and the steering controls at the stern. There are six canoes supporting this version of the Timber Slug. | | |
| | | | |
| | Congratulations to the scouts who built and crewed the Slime Master 2000, and to Darby for making this part of the Camp Baker program. | | |
| | The ghostly Slime Master continues on it's sail across the Lake. | | |
---
---
If you have any question about this page, send mail to Dave Regan