April 1998, Archery / Rifle Camping trip
Page 1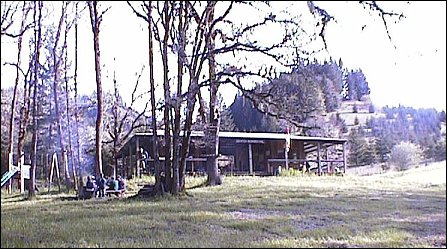 Benton Bowman's cabin On April 25 and 26th Troop 163 went on their annual Archery / Rifle Camping trip. A number of Weblow's were invited to see what camping was like.
The Benton Bowman archery club allows the troop to use their grounds for camping and also allow the use of their archery range for practice. The archery range is laid out like a golf course where you shoot arrows down range, go retrieve your arrows and go to the next target.
The Corvallis Elk's allow us use of their rifle range for target practice with .22 rifles.
Between those two activities, we were able to keep all of the kids busy.
| | | | |
| --- | --- | --- | --- |
| | The first order of business is to set up camp. There is a hill above the cabin at archery range. This hill can get a bit windy, but this weekend we had great weather. Saturday was a bit cloudy and cool, but Sunday. was great. | | |
| | The weblow's learn a little at the archery range. The club has conventional targets to get warmed up with. | | |
| | The Weblow's and Boy Scouts are at the rifle range under the guidance of Walt H. Some of the scouts were working on the shooting requirements of the Rifle merit badge. | | |
| | The shooting areas have a place to carefully take aim, as well as sandbags for helping to hold the rifles steady. We had a variety of different types of .22 rifles for the scouts to choose from, with a variety of sights. In general, the scouts did quite well with the equipment. | All camping trips need a bit of cooking to ensure that the scouts don't starve. Walt H made two batches of dutch oven cobbler for desert. I don't think there was any left over. | |
| | The grounds at the Bowmen's is quite lush. This is one of the bridges from the camping area over to the archery range. | | |
---
---
If you have any question about this page, send mail to Dave Regan