October 1997, Ft. Stevens
Page 1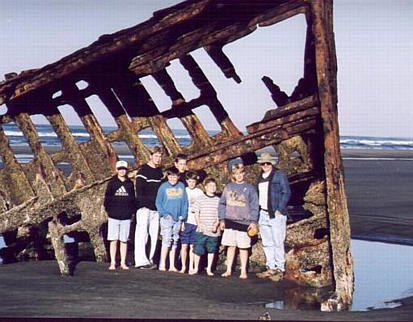 The Peter Iredale Members of the Boy Scout Troop 163 from Corvallis, Oregon traveled to Fort Stevens State Park for the weekend of October 18th and 19th, 1997. The park is located in Hammond, Oregon approximately 10 miles west of Astoria where the Columbia River empties into the Pacific Ocean.
The park features a day-use area and overnight camping, hiking trails and bike paths. It is located next to several miles of ocean beach front.
We had 7 scouts Andy C, Trevor d, Zach d, Nick H, Grant K, Jeremy T, and Andy W, In addition, we had two adults: Tim K and Don S.
---
| | | | |
| --- | --- | --- | --- |
| | The scouts enjoyed lively competition amoung themselves and against another group in some exciting matches of Capture The Flag at Battery Russel. | The beach provided more opportunities for fun and excercise as the more daring (cold-blooded) ventured into the chilly Pacific waters for a brief swim. And then there were the dunes... When boys, hills, and sand come together there is a lot of jumping and rolling going on. Thank goodness for the warm shower facilities back at the campsite! | |
| | | Battery Russel is part of Fort Stevens Military Reservation which guarded the mouth of the Columbia River from the Civil War until World War II. | |
| | | The fort was turned over to the State Parks and Recreation department in 1976. | |
| | | Photos and text by Tim K. | |
| | | The beach was also transformed into a football field where the yong men had a great time competing with each other and in showing off their physical skills in football games of "two-hand touch". The camp facilites were good and the weather could not have been any better. | |
| | | | |
---
---
If you have any question about this page, send mail to Dave Regan